Are you keen to get the lowdown on how much an AWS Cloud Engineer earns in India? Pay packets for these professionals can vary quite significantly depending on where they are based, years of experience and abilities. Here we will take a peek at AWS Cloud Engineer Salary in India as well as dig down into why it is such a sought-after job.
We will look at all aspects that come with holding this position like roles, qualifications needed and required skills too – so keep reading! Not just that but also delving deeper into trends seen across India related to salaries within AWS territory will be included here.
Understanding the AWS Cloud Engineer Role in India
If you want to get into the realm of cloud engineering, it is critical that you comprehend the role of an AWS Cloud Engineer in India. Amazon Web Services (AWS) is one of the most well-known cloud computing platforms employed by thousands and thousands of companies all over the world. It provides a tremendous range of services from storage systems to application development even machine learning – and thus there are lots of potential roles for AWS cloud engineers in India!
A primary task for these professionals is working with organisations on creating, launching as well and administering their programs supported online. Do they have adequate security measures? Are customers able to access them correctly? What kind of maintenance do they need going forward? All this falls under the job description set out for AWS Cloud Engineers – making sure businesses' projects run efficiently within their digital environments.
The need for skilful AWS Cloud Engineers has increased massively in the last few years as more companies have adopted cloud technology. This can encompass a range of tasks, from configuring servers and networks to setting up user accounts; managing databases, and monitoring performance – it is all there! 
It takes more than just technical adeptness though: expertise must extend into business processes that are linked with cloud-based solutions too. An effective engineer will be able to create systems which meet their customers' requirements while still keeping within budget brackets – no easy feat. How will you measure up?
In India, salaries of AWS Cloud Engineers have shot up due to their increasing demand in the technology sector. Depending on experience and job role, an engineer can typically earn between Rs 5-25 lakhs per annum or even more in some cases. Mid-level roles usually fetch a salary of around 8-15 Lakhs annually while higher positions may offer anything from 15 to 25 Lakhs and beyond! This shows that cloud engineering is undoubtedly one of the most rewarding opportunities for professionals today – all thanks to its growing popularity here!
Ultimately, becoming an AWS engineer requires a wealth of knowledge not just about Amazon Web Services but also related technologies such as Linux/UNIX systems administration, database management systems like Oracle/SQL Server/MySQL and so on, application programming languages for example Java/PHP/Python etc., system architectures like microservices and serverless computing et cetera. 
Internet applications which include web hosting and web services come to mind; virtualization techniques including containers and cloud deployments make up the list too; security practices and strategies applicable to authentication systems are important components in this equation. 
DevOps tools such as Jenkins and Selenium should be mastered if you want to become successful at what you do. To bootstrap yourself with these skillsets it's essential that you commit time towards experience building or certifications provided by Amazon Web Services itself – only then will your put-forward steps bear fruit!
Importance of AWS Certification for Career Progression
Gaining an AWS certification is a big deal for cloud engineers in India. It's the top recognition and comes with some great benefits like easier career progression, higher pay scale, and security of job — not to mention standing out from the crowd when applying for jobs! Even if you are already employed it can make your CV shine brighter; so no wonder everyone wants one these days. And that's before we even consider how it demonstrates your credentials as a reliable professional who deserves respect and appreciation.
Having an AWS certification under your belt can be a huge boost when it comes to opportunities for promotion and salary increases. With this specialized knowledge and experience, employers will often prefer you over non-certified professionals – especially if they are looking for someone with a commitment to skill development on prestigious projects. 
Plus, having that certification shows you are always up-to-date with the latest trends in cloud computing; allowing your employer or potential new clients to know that you've got them covered whatever their needs may be! So why not get certified? You'll give yourself more chances of success while also getting ahead of others who don't have such credentials – what's there to lose?!
As technology continues to develop at break-neck speed, the only way to stay ahead in terms of relevant skills is by getting certified on AWS' newest services. Doing so not only keeps you competitive but also opens up options for incredible career opportunities which would have been unimaginable without having that specific certification or being highly proficient in particular subjects!
Getting an AWS certification doesn't just give a boost to your technical abilities; it can increase confidence and demonstrate credibility among those around you as well as any potential employee who may be considering hiring you. 
Having one proves that someone has gone beyond merely understanding concepts theoretically – they have attained professional status within Cloud engineering specialities such as storage, networking and virtualization, thus gaining exhaustive knowledge which could prove invaluable if anyone wants to make themselves stand out within their chosen field of work.
AWS Cloud Engineer Salary in India: A Detailed Overview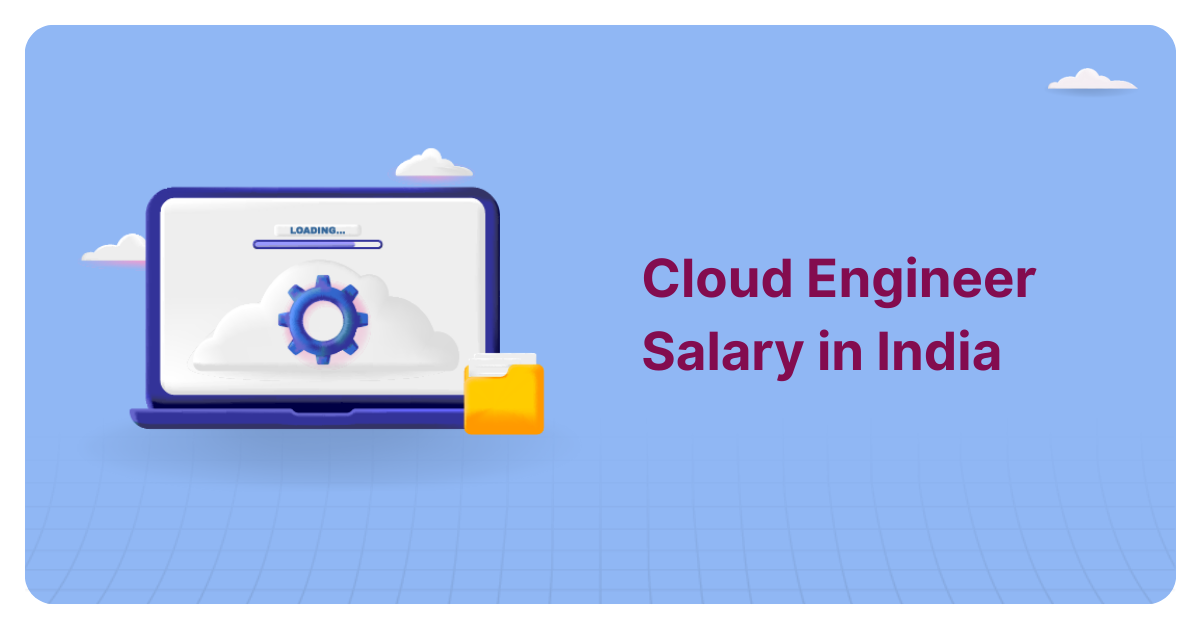 Talking about the AWS cloud engineer salary in India, it's crucial to understand all factors that affect their average pay. To get a better grasp of these elements we have an overview of the average AWS salary for this part of the world. Earning insight with descriptive statistics; from June 2020 to 2021 – median wages for an AWS Engineer stand at 6.5 lahks per annum and lower quartiles salaries around 3. So when making career choices one should consider both short-term and long-term financial security too!
It's fair to say that there can be quite a big difference in the salaries of experienced engineers in India. Five lakh rupees per annum is the lowest figure we see for this job role, while those in higher quartiles are earning up to 10 lakh rupees each year. Of course, it's worth considering other factors too – like where you work and what responsibilities your particular job entails. 
It could also depend on how much knowledge or qualifications employers want from their ideal candidate; if they need someone with more expertise then often comes an increase in salary as well
Take, for example, someone who has a certification such as Certified Solutions Architect (CSAA). This person will likely earn more than those without the same credentials. 
The same can be said about experience; usually, those with higher levels of expertise tend to draw in larger salaries due to their ability to solve complex issues that are often associated with cloud computing projects and service environments. Have you ever wondered why people invest so much time into gaining certifications and advancing their skills? Maybe it's because they know that having these qualifications could make all the difference when getting your foot through industry doors!
Working in the right place can influence your wages – typically bigger towns and cities pay more than smaller ones or country areas because of the availability of materials, workforce and other local components like cost of living, for example. As well as this, distinct qualifications such as DevOps Engineer (DOE) might be a factor when it comes to getting what you want out of your yearly salary if you work at big companies like Amazon Web Services (AWS). 
All these aspects together end up forming immense differences concerning wage packages offered by various organisations across India itself. Have you ever considered how much discrepancy there may be between salaries?
Factors Influencing AWS Cloud Engineer Salary in India
Being an AWS Cloud engineer is a great job in the tech industry. It's all about utilising AWS services to develop and maintain applications, as well as looking after the whole lifecycle of their products. As with most occupations, salaries for AWS Cloud Engineers differ contingent on several points. In India there are loads of elements which can affect how much money you get paid if you're an AWS Cloud Engineer; experience being one of them on top of the list! Having more expertise within this role will result in a higher salary level.
Generally speaking, the more experience you acquire working in the cloud arena, the higher your basic salary can be. The number of years spent toiling away in this field will also affect your earning capabilities; ranging from overall knowledge gathered across different companies and roles you may have filled over time. 
Also, any official certifications or specialized classes that show off how adept you are with AWS services would result either in a greater pay packet or improved job offers coming from prospective employers. Location is also a major contributor when it comes to compensations for Cloud Engineers based here in India – where exactly do they tend to get paid most?
Cities like Bangalore and Mumbai have a much higher demand for cloud engineers than other parts of the country. This increased requirement means that salaries are rising due to competition from employers trying to get hold of talented people in these areas. Plus, if you work at one of the bigger companies such as Amazon Web Services or Microsoft Azure then it's probable that they'll offer you an attractive package no matter where you live because their budgets and benefits packages tend to be very generous. What this tells us is how advantageous it can be when there's high demand for your skillset – so what opportunities could this bring?
The size and scope of projects you work on can also affect how much money you make as a Cloud Engineer in India. If the project is complicated, requiring problem-solving or advanced technical skill then employers may be willing to pay more than average for your services because they appreciate what an asset your specialised abilities are. But if it's something routine like general cloud maintenance then chances are that additional payment won't be offered since these roles don't usually need extra know-how beyond standard operational procedures.
Finally, industry trends have an impact on salaries for Cloud Engineers in India at present too – organisations everywhere seem to be transferring their applications and infrastructure over onto cloud systems pretty quickly so there'll probably continue to be high demand for qualified personnel which means wages across every sector related to this area should go up by extension.
Comparing AWS India Salaries with Global Standards
Looking at AWS Cloud Engineer salary in India, there's no real comparison with global standards. The cost of living is much lower than elsewhere so salaries for similar positions are naturally affected by this. But that doesn't mean Indian engineers don't have good career opportunities – quite the contrary! It's a great place to start or develop your career as an engineer, and you won't be left behind when it comes to finding employment or advancing up the ladder. 
So even though wages may not match other countries initially, if you put in hard work it can still reap rewards further down the line?
When we take a closer look at AWS engineer salaries in India, it becomes clear that these professionals get the opportunity to earn higher wages compared to other countries. For instance, an average base salary of 1.5 million Rupees (which is 17,813 US Dollars) per year for Solutions Architects based in India is much more than what most other nations offer for similar positions. 
Other roles like Senior Software Engineers and DevOps engineers have annual pay packages ranging from 1-2 million Rupees (11, 876 – 23 752 USD), which again are way better than standard rates elsewhere. Having such lucrative career options certainly helps attract talent from around the world!
This demonstrates that employers are eager to pay large sums of money for highly skilled personnel in the sector. And it's good news for people looking at climbing up the career ladder too – Managers and Principal Consultants can get much higher wages (sometimes reaching seven figures). 
Although these numbers come with significant responsibility and experience demands, they still give an idea of how competitive salaries can be for those employed within this field.
At a grassroots level, there are also entry-level job vacancies but jobs here may frequently need extra qualifications or certifications depending on what kind of employer you're applying to and the position being applied for. 
Additionally; companies will normally have relocation packages should you move a long way as part of taking up employment with them which further reduces any potential financial downsides from living away from your home country.
AWS India: Job Opportunities and Growth Potential
When it comes to how much an AWS Cloud Engineer earns in India, there are a lot of factors that come into play. Amazon Web Services (AWS) is one of the premier cloud providers worldwide and offers plenty of job openings as well as career growth prospects for those who are skilled in IT-related fields. If you're thinking about switching your career path towards this sector, read on to get information regarding what kind of salaries to expect or the range of roles available here in India.
To begin with, AWS provides numerous positions all over which have different salary packages associated with them!
Whilst getting your foot in the door with entry-level positions as a Junior Cloud Engineer can earn you around £4,000 per annum, experienced professionals have the potential to make between £8,000 and 12, 000 annually. 
Additionally depending on ability and experience AWS gives their employees a chance to quickly move up from junior roles towards senior ones such as Principal Architects or Chief Technologists; all of which come at an even higher salary! It's great that those working hard are rewarded for it so readily – how satisfying would it be to take this route into lucrative employment?
Perhaps the most encouraging thing about working at AWS is that they provide plenty of training material and courses for their employees. This makes sure you're always up to date when it comes to new technologies. What's more, AWS provides access to thousands upon thousands of online community forums exclusively for engineers – a great place where passionate workers from all over can come together and help each other out if needed!
Joining AWS could be a smart career move for engineers as it not only helps them build up their professional networks but also provides access to the most recent technological advances in cloud computing. Additionally, this company offers brilliant prospects of growth – including product-based careers like sales engineering or solutions architecture that can lead to leadership roles down the line. 
Working here is an inspiring prospect that comes with remarkable salaries and benefits packages, yet what truly makes this employer stand out is its commitment towards creating an environment where innovation and collaboration are encouraged among employees – ultimately making it one of the world's top employers!
Impact of Experience on AWS Cloud Engineer Salary
In the last decade, India has seen massive growth in its technology industry. This surge of opportunities within this domain has attracted many professionals to try their luck and give it a go – AWS Cloud Engineer being one such profession. Gaining insightful knowledge about Amazon Web Services (AWS) is beneficial for your career advancement as an engineer since it will increase your salary prospects significantly. Do you want to become part of this expanding tech bubble?
Having an impact on your earnings as an AWS Cloud Engineer in India depends largely on factors like experience. Experience and knowledge will make you more sure of yourself when it comes to tackling the complexities of cloud tasks, while also letting employers know that you have what it takes for good performance. To top this off, companies usually pay those with more background higher than people who are just starting! Are you ready to upskill and bridge any gaps to increase your earning potential?
If you wanna make it big time in AWS Cloud Engineering, taking the extra effort to upgrade your skillset is a good shout. There are loads of ways to do this – from getting practical experience or enrolling for courses and certifications provided by Amazon itself or other reputable training providers. You could even get some top guidance online, through mentorships – any route that gives you those essential qualifications will contribute to higher income potential down the line as your career progresses. 
So if reaching for those bigger salary brackets sounds like something worth investing your time into then there are plenty of ways available on how best you can go about doing so!
Comparing Salaries: AWS Cloud Engineer vs Other IT Professionals
No doubt that AWS Cloud Engineers are well-paid compared to other IT professionals in India, with their median salary of around Rs 7 lakhs per annum putting them among the highest earners. That being said, it begs the question – just how much higher is this figure than what's on offer for other roles within the industry? With this article, we hope to shine a light upon exactly those differences.
On the flipside, some IT roles have significantly lower median salaries than those of AWS Cloud Engineers. Take software engineers as an example – typically they're on around Rs 5 lakhs or less per annum and network engineers earn even less again. But it's worth noting that other positions can still offer higher pay-outs: depending on their experience and specialised knowledge, a DevOps engineer could be pocketing up to Rs 10 lakhs each year while data scientists with respected reputations in the arena would also find themselves earning good money.
Generally speaking though, these roles are not always easy to come by and so an AWS Cloud Engineer will arguably be able to achieve higher earning potential than most people working within other related roles in Indian cities such as Mumbai or Bangalore. What's more, when comparing IT professional salaries it is important to take geography into account; generally, you can expect the cost of living in large metropolitan cities like Delhi or Chennai to be much pricier than their smaller counterparts. 
This means that AWS Cloud Engineers employed in more expensive locations may need to demand slightly heftier wages compared with those based elsewhere – however, this doesn't detract from the fact that median earnings for this role across India remain very attractive regardless of where they're located – which goes some way towards demonstrating just how coveted a position it is at present!
Role of Location in Determining AWS Salary in India
Working as an AWS Cloud Engineer in India can be a lucrative career, but the amount of money you could expect to earn largely depends on where you are located. Whereabouts is essential when it comes to calculating your possible salary and other perks. 
For instance, if you're based in one of those great tech cities like Bangalore or Delhi then surely you'll get more pay than someone working somewhere smaller size town. That's because big-name technology firms usually give extra cash rewards to draw attention from skilled engineers and keep them employed within these challenging environments.
It's worth noting that salaries can differ immensely between the different AWS services or roles within a single city. For example, based on Glassdoor, engineers working with Amazon EMR (the elastic map reduce service) in Bangalore are likely to earn around $33000 per annum, whereas that specialising in Amazon EC2 (the elastic compute cloud service) can expect almost double this amount. Additionally, it is also important to remember that Senior Engineers and/or professionals who have additional qualifications tend to get much higher wages compared with Junior Engineers.
Considering a move into cloud engineering? It's worth researching the role best suited to your experience level and salary expectations. PayScale data shows that AWS Cloud Engineers in India tend to earn slightly less than their counterparts elsewhere – on average around $14000-$17000 lower per year compared to Europe or the US. 
However, this gap may reduce as demand for skilled professionals grows and employment opportunities spread out across regions. With other factors such as job market conditions and employer preference potentially influencing individual earning potential, it is wise to do some research before taking up a new position! Ultimately though, location still plays an important part when deciding how much you can make working as an AWS Cloud Engineer in India.
Future of AWS Cloud Engineering and Salary Trends in India
People often ask themselves the question – 'How much does an AWS Cloud Engineer earn in India?'. The increasing prevalence of cloud computing and, more specifically Amazon Web Services (AWS) as a major player means that there's a high demand for skilled individuals. But what kind of salary could someone expect to receive? To answer this we need to evaluate both the overall industry trends and how these apply particularly about jobs related to AWS engineers in India. 
It's obvious that the cloud engineering market is growing rapidly – year-on-year spending on AWS services has increased drastically over recent years. This progress looks like it will keep going well into 2021 and further, with businesses evermore depending on digital solutions to power their operations. What's intriguing is seeing how generous salaries for Indian cloud engineers are oftentimes compared to other IT roles – they can be more than double or even greater!
The demand for AWS Engineers is on an upward trajectory over the next few years – which should come as no surprise given their increasingly important role in digital transformation. According to PayScale figures from August 2020, average salaries for AWS engineers based in India range from Rs395K up to a whopping Rs1.7M per annum when you factor in cash bonuses – although this figure can vary greatly according to experience level, skill set and location. 
While salary doesn't necessarily give us the full picture of career progression or performance (working with top industry teams and handling prestigious projects being potential examples), financial rewards are still worth considering if we want a holistic view of our prospects; understanding what can be earned through additional training or certifications such as DevOps or ML will provide useful insight into your options going forward! 
In short then: there'll be plenty more opportunities out there for skilled professionals; those who step up have access to lucrative salaries compared with other IT roles; plus individuals needn't forget about non-monetary factors too – so getting informed about all these aspects could take your AWS career far!
In conclusion, AWS Cloud Engineer Salary in India provides a great opportunity for professionals who are striving to advance their careers. According to industry reports, the salary range of an AWS cloud engineer ranges from Rs 4 lakhs up to 16 lakhs depending on experience and qualifications – with salaries being higher in metropolitan cities such as Mumbai, Delhi or Bangalore. 
Employers usually require specific skill sets when it comes to hiring an AWS specialist; this could include familiarity with cloud storage solutions and deploying architecture on various AWS platforms amongst other things. Therefore if you have these skill sets then not only can your future be bright but also incredibly lucrative!
Are you keen to boost your knowledge and go up the ladder in your career as an AWS Cloud Engineer? If so, have a look at our amazing AWS Cloud Engineer Master Program. This comprehensive program gives you all of the tools, techniques and strategies for becoming a pro cloud engineer! 
Our brilliantly skilled instructors are here to help guide you every inch of the way – they will give you a more complex comprehension of principles and practices around cloud computing. So what's keeping ya? Sign up today to get this exceptional learning experience!
Are you aiming to get certified as an AWS Cloud Engineer? If so, then the AWS Cloud Engineer Master Program is the perfect place for you! At our program, we offer a comprehensive guide on cloud engineering that will help you develop all of the necessary skills and knowledge needed to excel in this field. 
Our expert instructors provide both theoretical and practical instruction which teaches how to create, deploy and maintain systems using AWS platform services such as computing, Storage and Networking. So if your goal is to become a top cloud engineer – sign up now and start preparing your team for long-term success in this renowned industry!
Happy Learning!