Is Cyber security a Good career choice in India? With the increased Internet adoption, almost every business/personal information is present online. This brings in the very need for cybersecurity professionals who can protect this online hosted, often sensitive information.
According to the U.S. Bureau of Labor Statistics, the employment requirements for the position of Information Security Analyst will grow up to 31% from 2019 to 2029. In contrast to that, the average growth rate of other jobs is just 4%! This is a testament to how significant it is today to pursue a cyber security career.
It's time to address the elephant in the room: is cyber security a good career in India? To know the answer to this question, read this blog till the end. Let's get started.
Everything has gone to the Internet in today's digital age. Nearly all companies have websites online, and a lot of private data is accessible there that might be abused by anyone.
Through untrusted Wi-Fi, third-party payment gateways, pop-up advertising, etc., your personal or professional information may be taken. Such suggestions could easily fool an untrained person. Therefore, it is essential to strengthen the websites' security.
The practice of protecting computer systems, servers, mobile devices, networks, and personal data from dangerous online attacks is known as cybersecurity. Due to the fact that every business organization is looking for cybersecurity experts to meet their security requirements, there is an increased need for cybersecurity expertise.
Is Cyber Security a good career in future?
With all other different budding technologies across the globe such as cloud computing and AI, does cybersecurity still hold that much importance? Is cyber security a good career choice? To know the answers to these questions, it is crucial to understand the scope of the cybersecurity professionals in the tech industry.
To gauge if cybersecurity is a good career in India, you need to read the following pointers.
Do you know that there are over 1.5 million unfilled job positions in the IT security domains? This is a huge marker of the sky-high demand for cybersecurity professionals across the tech industry. From IT to healthcare companies, all of them need a cybersecurity professional today!
According to Glassdoor, Rs. 7,06,278 is the average salary of a cybersecurity engineer in India per year. This number could range between Rs. 3 LPA to Rs. 18 LPA based on your skills and domain knowledge. Overall, you can make big bucks in this industry.
There is a vast scope for cybersecurity professionals as far as career growth is concerned. You can enter cybersecurity consultancy roles to recommend steps to protect the systems and critical data of various business organizations.
Take on leadership and management roles:
You can look into career paths for management and leadership positions including Chief Information Security Officer (CISO), Security Operations Manager, and Security Architect. You can gain extensive expertise in managing teams, supervising security operations, and creating security policies by working in such jobs.
Specialize in emerging technologies:
As IT systems advance, new problems with cyber security are emerging. You can specialize in cutting-edge technologies like the Internet of Things (IoT), artificial intelligence (AI), blockchain, and cloud computing by becoming an expert in cyber security.
Area for hybrid work model:
Cybersecurity is no exception to the remote work model. After gaining certifications and hands-on experience, you can apply for various remote work jobs or even at companies that follow a hybrid work model. It's all your choice.
By gaining multiple cybersecurity certifications, you can become an in-demand cybersecurity professional in the eyes of the recruiter. You can choose from a variety of certifications such as Certified Ethical Hacking (CEHv12), CompTIA PenTest+, CompTIA CySA+, Certified Information Systems Security Professional (CISSP), etc. to further advance in your career.
All the above-mentioned pointers can answer why is cyber security a good career choice.
How to build a solid cybersecurity career?
Cybersecurity is one of the fastest-growing industries. To enter this fast-paced domain, it is crucial to invest in certifications and work on hands-on projects to build a solid portfolio for getting jobs.
If you're starting a cyber security career from scratch, you can follow the following steps:
Get a degree:

After finishing high school, the initial step is to pursue a graduate degree in computer science or a closely related discipline.

Add on an online course/degree:

Following graduation, you have the option of pursuing a cybersecurity-focused master's degree or enrolling for an authorized online course in the subject.

Pursue solid certifications:

Then you can start concentrating on obtaining globally accepted certifications that are appropriate for your job objectives and pursuits.

Gain practical experience:

You must simultaneously invest in learning first-hand about the cybersecurity industry. This involves working on initiatives related to cyber security and completing internships.

Enhance online visibility:

It's crucial to create a compelling LinkedIn profile that highlights all of your completed projects. You can also write dedicated blogs and publish them on Medium or your own portfolio website.

Land your first job:

After following all the above steps, you can start applying for jobs through LinkedIn, Monster, Indeed, Naukri, etc., and land your first

cybersecurity job

!
In-demand courses and certifications for a successful cybersecurity career
The best way to upskill or enter the cybersecurity industry is to enroll in top-notch online cybersecurity courses. By gaining knowledge through these courses, should you not only get the right skills but also hands-on experience. 
Based on your area of interest, you can pursue the following cybersecurity certifications:
Certified Ethical Hacking (CEHv12):
To stop your systems from being harmed, you must think like a hacker. This is what the course's guiding principle is. Through the CEH course offered by the EC Council, you gain a practical understanding of the fundamentals of ethical hacking.
This high-level certification from CompTIA focuses on transitioning you into a cybersecurity analyst. You acquire the ability to use behavioral analytics to foresee and prevent future cyberattacks. You can achieve this by evaluating the security of current systems.
The CompTIA PenTest+ certification is the greatest tool for learning to help you become an expert in penetration testing and vulnerability assessment if you wish to enhance your knowledge in these fields. You learn how to test the security of systems by conducting simulated cyberattacks on them.
Certified Information Systems Security Professional (CISSP):
The Certified Information Systems Security Professional (CISSP) program is offered by the International Information System Security Certification Consortium, usually referred to as (ISC)2. You get knowledge of several security principles and procedures.
Certified Information Security Manager (CISM):
The Certified Information Security Manager (CISM) credential, provided by ISACA, improves your capacity for designing and overseeing enterprise information security (infosec) systems. Information security governance, incident management, information risk management, program development and management, and other topics are covered.
Where can you prepare for the cybersecurity exams?
It is recommended to enroll in online courses that are aligned with industry standards and provide you with all the required hands-on practical knowledge. At Network Kings, you can gain hands-on knowledge by learning directly through top-notch cybersecurity engineers.
The benefits of enrolling at Network Kings are as follows:
Virtual labs:

The biggest virtual labs in the world are always accessible.

1:1 online classes:

Real-time, interactive classes with cybersecurity engineers.

Recordings:

Access the most recent and earlier batches of recordings.

Doubt sessions:

Expert doubt sessions to dispel any uncertainties.

Career counselors:

There is ongoing career counseling throughout the training.

Resume tips:

Guidelines and tactics for writing the most appealing resume.

Progress tracking portal:

You'll have access to the Network Kings online dashboard, where you can keep track of your progress.
What are you waiting for? Register now to book a free career guidance session with our experts.
Job opportunities you can land in the Cybersecurity domain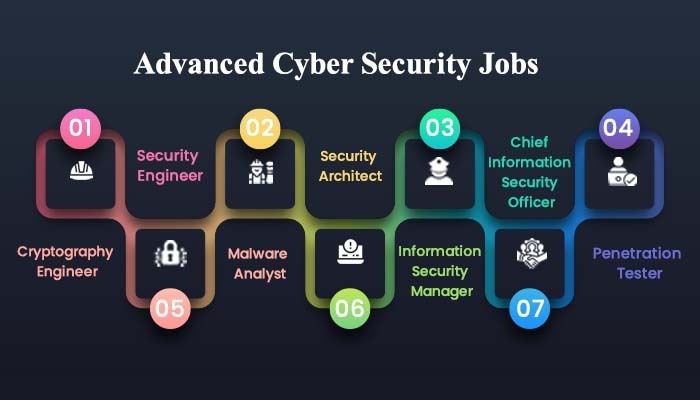 According to businesstoday, there were over 40,000 job openings in May 2023 in India for various cybersecurity roles. You can apply for the following job roles:
Ethical Hacker 

Threat Hunter Security Consultant 

Cloud Penetration Tester 

Web App Penetration Tester

Application Security Analyst 

Threat Intelligence Analyst 

Security Administrator

Security Engineer/Analyst

Network and Security Specialist 

Penetration Tester

Security Operations Center (SOC) Analyst 

Systems Administrator 

DevOps Software Developer

IT Project Manager Network

Cyber Security Analyst System Engineer

Chief Information Security Officer (CISO)

Compliance Security Analyst

Information Security Engineer/Manager

Cyber Security Auditor

Vulnerability Analyst
What are the salary prospects for cybersecurity professionals?
You can expect the following salary packages as a cybersecurity professional based on the country you live:
United Kingdom (UK): £40,000 – £90,000 per year

China: CNY 200,000 – CNY 600,000+ per year

Japan: JPY 4,000,000 – JPY 8,000,000+ per year

Brazil: BRL 60,000 – BRL 150,000+ per year

Netherlands: €40,000 – €90,000 per year

South Korea: KRW 40,000,000 – KRW 100,000,000+ per year

Egypt: EGP 100,000 – EGP 400,000 per year

Australia: AUD 80,000 – AUD 150,000+ per year

India: INR 500,000 – INR 2,000,000 per year

United States (USA): $80,000 – $150,000+ per year

Canada: CAD 70,000 – CAD 120,000+ per year

South Africa: ZAR 250,000 – ZAR 700,000+ per year
That's all for this blog. This guide is the best for individuals who want to know the answer to this question: is cyber security a good career choice? We have listed the scope of the cybersecurity professionals and the steps to build a solid cybersecurity career.
With the increased demand for cybersecurity professionals, now is the best time to invest in a large industry like cybersecurity!