Wondering how to start a DevOps career? Here is the pathway.
DevOps career got into one of the hottest career opportunities from last year. The demand for DevOps is increasing day by day. You can enter the world of DevOps with a DevOps Certification. To start a career in DevOps you must have a valid certification.
This blog will guide you to start a career in DevOps. If you are a DevOps aspirant or want to become one, read this blog till the end.
DevOps Career Ladder: Pathway to Success
Are you a DevOps enthusiast and finding ways to kickstart your career in DevOps? Here is the answer to your question. Follow these steps for your DevOps career roadmap.
Understand programming languages.

Study operating systems.

Check networking safety and protocols.

Comprehend Infrastructure as Code.

Embrace Continuous Integration/Continuous Deployment tools.

Invest in application and infrastructure monitoring.

Study cloud providers.

Understand cloud design practices.
Accelerate Your DevOps Career Growth: Strategies for Advancement
DevOps is a growing technology that has rapidly transformed our work. As the world evolves increasingly digital, the stress on companies to innovate quicker than ever is growing.
DevOps is an approach that helps communities work more efficiently jointly to satisfy these requests.
Some sources assert that 21% of software development experts have strategized the DevOps practice in 2022. The future of DevOps is, thus, substantially bright. The fate of DevOps jobs is also incredibly more encouraging compared to other technology areas. 
Strategies to enhance your DevOps Career
To enhance your DevOps career, you must follow these strategies:
Career Growth

: Measuring the stage for fast career growth in the DevOps domain. If you set out to create a career in DevOps, your career path in DevOps can see you begin as a Release Manager, then drive up to DevOps Test

Engineer, DevOps Cloud Engineer, and at last, a DevOps Architect.

Upskill Knowledge

: Leveraging constant knowledge and upskilling to remain competitive. Learning DevOps tools will help you enhance your skills and expertise.

Challenges

: Processes for striving out challenging projects and duties. Indulge yourself into a challenging project to gain more experience.

Leadership

: There is great significance in accepting leadership roles and responsibilities.

Remove obstacles

: Guide potential obstacles or roadblocks to career acceleration.

Get Advice

: Actionable steps and practical advice for accomplishing rapid career growth.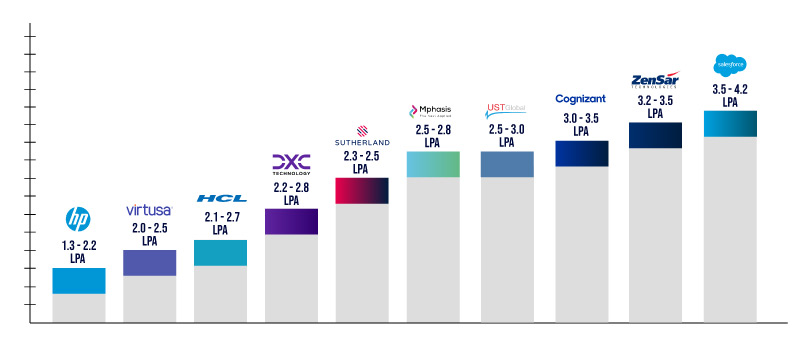 The era from, automation to Artificial Intelligence has changed recently. Earlier it was all about automation, but now everything goes with machine learning. The fortune of a DevOps position is that of a bright one. Here are the reasons why:
Future of DevOps based on Industry:
IT Industry: DevOps engineer is responsible for automating tasks, development, and deployment. They also care for technical and non-technical aspects of software development. Hence, the demand for a DevOps engineer is high in the IT industry.
Communication: DevOps is a software development method that employs software engineering and functions engineering methods. It is about teaming with people in distinct domains to produce high-quality, durable, and protected derivatives.
Healthcare: DevOps uses approaches that support bridging the gap between development and functions. It is not common for companies to use DevOps for their software-based products, but one can also employ it in industries like healthcare.
Inventory Management: DevOps has developed from a set of tools into an enterprise-wide approach that traverses various business functions and activities, including product development, marketing, sales, and customer service. Other zones possess IT operations management (ITOM), quality assurance (QA), security engineering (SENG), project management (PM), and human resources (HR). Therefore, it is good enough to say that the fate of DevOps jobs is shining with chances.
Manufacturing: The future of DevOps depends on the industry. Manufacturing is a vital industry that can help by executing DevOps practices. DevOps has been around for a while and has been thriving in the manufacturing industry.
DevOps future based on Location:
India: India boasts a high population of over 1 billion people. India has some of the best tech skills in the world, so it's evolving into a famous destination for outsourcing and offshoring jobs. India has seen an addition in DevOps-related positions, and startups use DevOps to assist them in their business quickly and efficiently. India's immense population and high attention to tech talent will make it an appealing destination for DevOps to flourish.
NOTE: If you are looking to start your DevOps course in any of these cities- Coimbatore, Noida, Chandigarh, Kolkata, Ahmedabad, Mumbai, Delhi, Pune, Chennai, Hyderabad, Bangalore, Nepal etc. then, Network Kings is the best online learning Platform to choose.
United States: In the future, DevOps will be location-agnostic and an important part of the international economy. The United States has a considerable benefit in this area because it has an extensive population of experienced engineers and developers.
Canada: Canada has numerous DevOps conferences, meetups, and groups. One example is the Canadian Developer's Conference (CDNConf), an annual meeting that gets together developers from all over Canada to understand new technologies and network with like-minded people. In addition to CDNConf, several meetups and groups have come along in recent years, such as DevOps Vancouver or TorontoDevOps.
United Kingdom: In the UK, the fate of DevOps is profitable because there has been improved adoption of DevOps in the last few years. The government has made it more leisurely for businesses to adopt DevOps by making changes in legislation that will clear obstacles to embracing it.
Australia: Australia is a convincing case for DevOps as most of the country is in a single time zone, with rarer natural tragedies. Any outage or downtime will not involve a large part of the inhabitants. In Australia, many communities have embraced DevOps to enhance the grade and pace of software delivery.
DevOps is the association of software developers and processes who functions jointly to confirm that the developed, freed, and maintained software is more durable, efficient, and safe. The future of DevOps jobs seems promising as there are a lot of job prospects in this field.
Many new businesses are examining for qualified experts to serve these roles. DevOps has become a critical part of today's institutions as it guarantees constant delivery of high-quality code quickly with enhanced safety and peace.
How to Start a DevOps Career?
Before you start a career in DevOps, you must know these things:
Understanding of DevOps.

Background and existing knowledge in DevOps.

Must focus on technologies of DevOps career.

Learn Automation.

Develop your brand.

Complete training courses.

Earn Certification in DevOps.

Go with Entry-level jobs.

Apply for highly-paid DevOps job opportunities.
Note: You can get a DevOps certification course from Network Kings and learn required DevOps engineer skills to become a best DevOps expert in IT industry.
Is a DevOps career right for you in 2023?
DevOps career is right for you, but before just believing only words. Let's see why is DevOps the right career for you!
The rising demand for DevOps talent

: DevOps is responsible for maintaining a balance between Development and Operation teams. With the help of DevOps, companies are getting better and faster software solutions.

Career growth in the field of DevOps

: DevOps has high demand and due to the increase in demand, it has various job opportunities.

Key responsibility areas (KRA) as a DevOps expert

: Being a DevOps Expert, you must know your responsibilities or key responsibilities area to boost in your field.

Technical skills needed to build a DevOps career

: There are various technical skills needed to build a DevOps career, like

Linux Fundamentals

and Scripting Skills,

Understanding of Relevant Tools., Security Skills, Automation Skills, Coding and Scripting,

Cloud Skills

, Testing Skills, and Configuration and Version Management.
Benefits of DevOps Certification Training
DevOps can help communities update their IT infrastructure, push creation, and enhance general employee satisfaction. Because of these advantages, employers are increasingly curious about engaging DevOps professionals.
After successfully working as a DevOps Test Engineer, you can drive up to the part of a DevOps Cloud Engineer. This role will show you the challenges connecting to operating, evolving, and operating systems and applications based on the cloud.
As a DevOps Engineer, you'll bring software engineering best practices and an engineering perspective to arguments on the approach of infrastructure, security, and IT. In this role, you will work across several clients to deliver customized solutions to technical challenges.
Technical skills are necessary for getting a DevOps career.
Where to pursue DevOps training?
There are various choices to pursue DevOps training, but the best is Network Kings. Network Kings will offer perks like:
We provide you with the finest online training.

We provide courses in Hindi and English for more useful understanding.

We deliver 24/7 Lab access with zero downtime.

We mostly start our DevOps batches in the evening to relax after finishing all the work.

The timing is not a limitation if you are a working professional.

We have trainers who are industry experts and are invested with all the knowledge and know the industry needs since they teach accordingly.

In the DevOps course, you will get 50+ hours and all the knowledge with proper guidance.
Why Network Kings to pursue DevOps course?
You will get many choices when you plan on accomplishing a DevOps course, but NETWORK KINGS is the most useful of all the platforms for knowing the DevOps course, and this is not just an inadequate statement but a truth. Therefore, one can have belief in us by scanning our registered sessions.
Once you complete the DevOps course training, you will see the result and blessings of doing it from NETWORK KINGS. We consider supplying our students with the best material for their upliftment and enhancement of technology.
What modules will you learn in the DevOps course at Network Kings?
The modules will you learn during the online DevOps training at Network Kings are:
Manage and observe different variants of the source code using GIT

Create and automate tests utilizing Jenkins and Maven

Mechanize testing of web segments employing Selenium apparatuses

Form and deploy containerization utilizing

Docker

Understand diverse jobs and command line use of

Ansible

Control grouping and scaling with

Kubernetes

Conduct ongoing monitoring utilizing Zabbix

Further experience in chipping away at an industry-standard live Projects
What is the eligibility of the DevOps training?
The eligibility of the DevOps training are:
Graduation

Basic understanding of the IT industry

The course helps

IT professionals

with experience in software development, operations, or IT management.

Participants have basic skills and an understanding of programming languages.
What are the job opportunities after the DevOps training?
The top highly-paying job opportunities after completing the DevOps training are as follows-
Site Reliability Engineer

Automation Engineer

Security Engineer

DevOps Manager

Release Engineer

Infrastructure Engineer

Continuous Integration/Continuous Deployment

(CI/CD) Engineer

Kubernetes Administrator

Platform Engineer

Docker Engineer

Build Engineer

Systems Engineer

Database Administrator

IT Operations Manager

Software Development Manager

Technical Project Manager

Solution Architect
What are the salary expectations in the DevOps Training?
The DevOps Engineer salary in different countries can be:
United States – USD 105,057 to USD 160,000 per year

Canada – CAD 153,111 to CAD 158,434 per year

United Kingdom – £49,654 to £177,514 per year

Australia – AUD 92,500 to AUD 120,000 per year

Germany – €48,000 to €79,000 per year

France – €34,000 to €65,000 per year

United Arab Emirates – AED 31,000 to AED 287,361 per year

India – INR 4 lakhs to INR 14 lakhs per year

Japan – average salary of ¥70,70,124 per year

South Africa – ZAR 540,000 to ZAR 840,000 per year
To conclude, the DevOps career is high due to its high demand. If you are desiring to step into the world of DevOps, it is not a bad idea. You can get a secure future with highly-paid DevOps jobs if you have followed the DevOps career roadmap mentioned above. To initiate your DevOps career, you must start your DevOps training first and for that, you can rely on Network Kings. Network Kings offers the best study material and Live classes from IT professionals.
Frequently Asked Questions (FAQs)
Is DevOps a good career?
DevOps career continues to grow in the tech world. DevOps career is one of the hottest jobs in the modern era.
What is the DevOps career path?
The DevOps career path opens career options like Release Manager, then move up to DevOps Test Engineer, DevOps Cloud Engineer, and DevOps Architect.
Is DevOps a future job?
DevOps career is bright in India and other countries. You can earn a handsome salary with DevOps jobs.
Is DevOps need coding?
DevOps need coding and scripting of both for DevOps jobs.
Is DevOps a stressful job?
DevOps engineers are more often worried than the IT average.
Is DevOps easy to learn?
Getting started to learn DevOps is easy.
Will AI replace DevOps?
No, AI is meant to ease the task and it cannot replace human interactions and communication.
Which language is used in DevOps?
For DevOps, one must know Python.