As explained nowadays, cyber security is a huge concern for everybody – individuals, companies and governments all around the world. Since more and more advanced cyber threats are emerging daily, it is vital to have strong laws in place that can guarantee information safety and fight against those kinds of attacks. 
In this article we are going to take a closer look at what exactly is cybersecurity, why it matters so much within the IT industry context; existing Indian regulations related to this topic; the importance of their enforcement as well as career prospects in cyberspace along with salary details if you become a certified specialist in the field. So let us get started!
Cybersecurity involves looking after computer networks and systems as well as info from unauthorized utilization or damage threats like viruses, malware attacks etcetera. It includes using various measures such as encryption, firewall system solutions along antivirus program programs so that you can guard against cyber dangers including hacking plus data violation. 
What is the need for the Cyber Security in IT?
With the ever-growing reliance on technological solutions and internet access, cyber security has become an increasingly crucial element of modern life. Companies store masses of sensitive data digitally, from monetary specifics to customer details and intellectual property – making them vulnerable targets for cybercriminals. To protect computer systems, networks and digital information from unauthorized usage or damage/theft; measures must be taken by companies which prevent theft while detecting threats made online such as hacking attempts or malware attacks.
What can happen if cybersecurity isn't properly managed?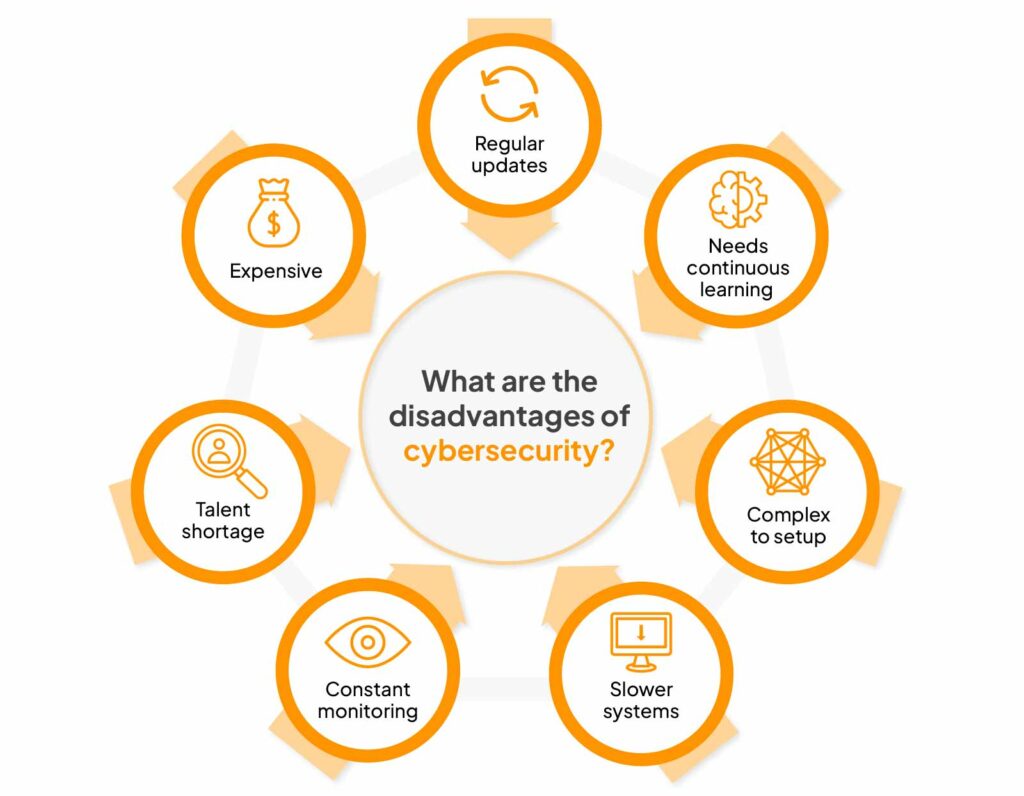 The reality is that without appropriate levels of protection against these potential risks, businesses could suffer serious financial losses due to stolen trade secrets, decreased reputation caused by a breach in confidential material or even having malicious programs installed within their system causing further disruption.
What are a few Cyber Security laws and regulations in India?
A few Cyber Security laws and regulations in India are as follows-
Information Technology Act, 2000 (IT Act)
The primary legislation governing cybersecurity in India covers various aspects of electronic transactions and computer-related offences.
Information Technology (Amendment) Act, 2008
An amendment to the IT Act, which introduced provisions related to data protection, digital signatures, and increased penalties for cybercrimes.
National Cyber Security Policy, 2013
Outlines the government's strategy and framework for ensuring a secure and resilient cyberspace in India.
Personal Data Protection Bill, 2019
Proposed legislation aimed at regulating the collection and processing of personal data, with provisions for data security and breach reporting.
Reserve Bank of India (RBI) Guidelines
RBI issues guidelines for cybersecurity in the banking and financial sector, such as the Cyber Security Framework in Banks (2016).
Indian Computer Emergency Response Team (CERT-In)
CERT-In is the nodal agency for responding to cybersecurity incidents and plays a key role in enforcing cybersecurity standards.
Governs the use and protection of Aadhaar data, the unique identification system in India, with a focus on data security.
Telecommunication Security Standards
Regulations issued by the Department of Telecommunications (DoT) to ensure the security of telecommunications infrastructure and services.
Payment Card Industry Data Security Standard (PCI DSS)
Guidelines issued by the Payment Card Industry Security Standards Council (PCI SSC) to secure cardholder data in payment systems.
Guidelines on Cyber Security Onboard Ships
Issued by the Directorate General of Shipping, these guidelines address cybersecurity concerns in the maritime industry.
Data Localization Requirements
Certain sectors, such as the financial industry, have data localization requirements that mandate storing customer data within India's borders.
Contains provisions related to the protection of sensitive financial and business data.
National Critical Information Infrastructure Protection Centre (NCIIPC) Guidelines
NCIIPC issues guidelines for protecting critical information infrastructure from cyber threats.
Electronic Authentication Guideline
Guidelines issued by the Unique Identification Authority of India (UIDAI) to ensure secure authentication using UID data.
IT (Reasonable Security Practices and Procedures and Sensitive Personal Data or Information) Rules, 2011
Provides requirements for the protection of sensitive personal data under the IT Act.
Established under the IT Act, it deals with appeals against orders issued by adjudicating officers under the Act.
Indian Copyright Act, 1957
Contains provisions related to digital rights management and copyright protection in the digital era.
Prevention of Money Laundering Act, 2002
Includes provisions for reporting and investigating cybercrimes related to money laundering and financial fraud.
Securities and Exchange Board of India (SEBI) Guidelines
SEBI issues guidelines for the cybersecurity framework in the securities and exchange industry.
Insurance Regulatory and Development Authority of India (IRDAI) Guidelines
IRDAI issues cybersecurity guidelines for insurance companies.
Contains provisions related to anti-competitive practices, including those involving cybercrimes.
Contains various provisions to deal with cybercrimes, such as hacking, identity theft, and online fraud.
Cyber Swachhta Kendra (Botnet Cleaning and Malware Analysis Centre)
Operated by CERT-In, it focuses on the detection and removal of malware and botnets.
Information Technology (Intermediaries Guidelines) Rules, 2011
Provides guidelines for intermediaries, such as social media platforms, regarding content takedown and user data protection.
Legal Metrology Act, 2009
Contains provisions related to electronic weighing and measuring instruments, ensuring their security and accuracy.
National Policy on Software Products, 2019
Promotes the growth of the software product industry in India, including cybersecurity considerations.
Guidelines for Data Classification and Protection
Various organizations, including government bodies and businesses, have their data protection guidelines.
National Digital Communications Policy, 2018
Outlines the government's vision for secure and accessible digital communication infrastructure.
Data Protection Authority (DPA)
As of my last update, India was considering the establishment of a Data Protection Authority to oversee and enforce data protection regulations under the Personal Data Protection Bill, 2019. Please check for updates on the status and role of the DPA in India's data protection framework.
Internet of Things (IoT) Security Guidelines
The Ministry of Electronics and Information Technology (MeitY) has been developing guidelines and standards for the security of IoT devices and systems to address the emerging challenges posed by IoT-related cyber threats. These guidelines may have been released or updated since my last knowledge update in September 2021.
Why is the implementation of Cyber laws important?
The implementation of cyber laws is paramount in the modern digital landscape for several crucial reasons. Firstly, cyber laws provide a legal framework to combat and deter cybercrimes such as hacking, data breaches, online fraud, and identity theft. They define what constitutes criminal behaviour in the digital realm and establish penalties for offenders, promoting a safer online environment.
Secondly, cyber laws protect individuals' privacy and data rights, ensuring that personal information is handled responsibly and securely by organizations and government entities. This safeguards citizens from unwarranted surveillance and data misuse.
Furthermore, the effective enforcement of cyber laws fosters trust in digital transactions and e-commerce, encouraging economic growth and innovation. It also enables nations to respond to cyber threats effectively, bolstering national security. In summary, the implementation of cyber laws is essential for maintaining order, security, and trust in the ever-evolving digital world.
How to make a career in Cyber Security?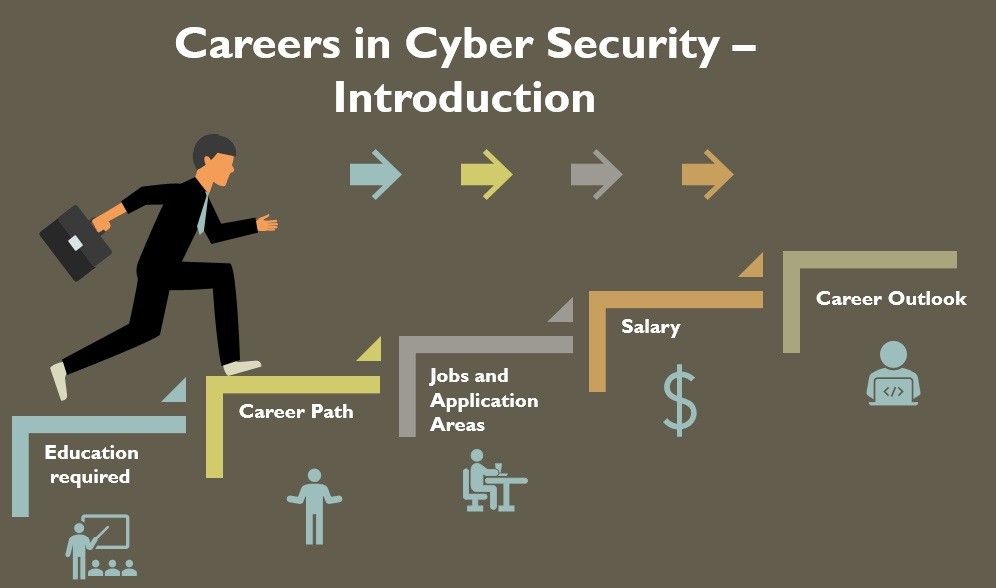 To make a career in Cyber Security, one must follow the given roadmap-
Begin by gaining a foundational understanding of computer networks, operating systems, and programming languages (

Python

is particularly useful).

Familiarize yourself with common cybersecurity terminologies and concepts.
Obtain a bachelor's degree in a relevant field.

Consider enrolling in the top

CyberSecurity certifications

. Some of them are-

CEH (V12)

,

CISSP Training

,

CompTIA PenTest

+,

CompTIA Security+

,

CompTIA CySA+
Opt for entry-level positions to gain hands-on experience in the IT industry.
Upgrade your industry skills by preparing for other certifications to upskill using the other field of interest. 
What are the top Cyber Security skills in IT?
The top Cyber Security skills in IT are as follows-
Understanding and securing computer networks, including firewalls, intrusion detection/prevention systems, and VPNs.
Vulnerability Assessment and Penetration Testing
Identifying and addressing security vulnerabilities in systems through ethical hacking and testing.
Security Analysis and Monitoring
Monitoring networks and systems for suspicious activities and analyzing security logs.
Developing and implementing plans for responding to security incidents and breaches.
Security Information and Event Management (SIEM)
Using SIEM tools to collect, correlate, and analyze security data.
Securing cloud infrastructure and services, including AWS, Azure, and Google Cloud.
Identity and Access Management (IAM)
Managing user access to systems and data through authentication and authorization.
Understanding encryption algorithms, secure communication, and data protection.
Identifying and mitigating vulnerabilities in web applications, such as cross-site scripting (XSS) and SQL injection.
Security Awareness and Training
Educating employees and stakeholders about cybersecurity best practices.
Security Policy and Compliance
Developing and enforcing security policies to ensure compliance with industry regulations.
Monitoring and analyzing cyber threats to stay ahead of potential attacks.
Protecting devices like computers and mobile devices from malware and other threats.
Wireless Network Security
Securing wireless networks and preventing unauthorized access.
Secure Software Development
Integrating security practices into the software development lifecycle (SDLC).
Security Assessment and Auditing
Conducting security assessments and audits to evaluate the effectiveness of security controls.
Forensics and Investigation
Investigating security incidents and collecting evidence for legal purposes.
Identifying and mitigating cybersecurity risks to the organization.
Machine Learning and AI in Security
Utilizing artificial intelligence and machine learning for threat detection and analysis.
Effectively communicating security issues and recommendations to non-technical stakeholders.
Where to learn the top Cyber Security skills?
To learn the top Cyber Security skills to earn huge in IT one opts to go for the top certification courses. Therefore, one looks for one of the best platforms for training and one such platform is Network Kings. 
The perks of choosing Network Kings for the top Cyber Security course training are as follows-
Learn directly from expert engineers

24*7 lab access

Pre-recorded sessions

Live doubt-clearance sessions

Completion certificate

Flexible learning hours

And much more.
What are the top Cyber Security Courses in IT?
The top available cyber security courses in IT are as follows-
CEH is a certification that teaches ethical hacking skills. It equips professionals with knowledge to identify and counteract vulnerabilities and threats, enabling them to think like hackers and protect systems and networks from cyberattacks.
The exam details for the CEH (v12) course are as follows-
CISSP is a globally recognized certification for information security professionals. It covers a wide range of security topics, including access control, cryptography, and risk management, and validates expertise in designing, implementing, and managing security programs.
The exam details for the CISSP training course are as follows-
CompTIA PenTest+ certifies skills in penetration testing and vulnerability assessment. It focuses on hands-on techniques for identifying and addressing security vulnerabilities, making it suitable for professionals who want to specialize in offensive security.
The exam details for the CompTIA PenTest+ course are as follows-
CompTIA Security+ is an entry-level certification covering essential security concepts and practices. It validates knowledge of network security, cryptography, and threat detection, making it a good choice for beginners and those pursuing IT security careers.
The exam details for the CompTIA Security+ course are as follows-
CompTIA CySA+ is a mid-level certification emphasizing threat detection and analysis. It equips professionals with skills to monitor, analyze, and respond to security incidents effectively, making it valuable for security analysts and related roles.
The exam details for the CompTIA CySA+ course are as follows-
What are the available job roles for cybersecurity certified?
The top available high-paying job roles for a cybersecurity-certified are as follows-
Security Analyst

Cybersecurity Engineer

Penetration Tester (Ethical Hacker)

Security Engineer

Incident Responder

Security Architect

Information Security Manager

Security Administrator

Network Security Engineer

Cloud Security Engineer

Application Security Engineer

Identity and Access Management (IAM) Specialist

Security Auditor

Security Compliance Analyst

Security Operations Center (SOC) Analyst

Security Awareness Trainer

Threat Intelligence Analyst

Digital Forensic Analyst

Security Sales Engineer

Chief Information Security Officer (CISO)
What are the salary aspects for cybersecurity certified in IT?
The salary aspects for a cybersecurity-certified in IT are as follows-
United States:

USD 80,000 – USD 160,000 per year

United Kingdom:

GBP 35,000 – GBP 80,000 per year

Canada:

CAD 70,000 – CAD 140,000 per year

Australia:

AUD 70,000 – AUD 150,000 per year

Germany:

EUR 50,000 – EUR 100,000 per year

France:

EUR 40,000 – EUR 80,000 per year

Netherlands:

EUR 50,000 – EUR 90,000 per year

Switzerland:

CHF 90,000 – CHF 160,000 per year

Singapore:

SGD 50,000 – SGD 120,000 per year

Japan:

JPY 5,000,000 – JPY 12,000,000 per year

India:

INR 5,00,000 – INR 20,00,000 per year

Brazil:

BRL 60,000 – BRL 150,000 per year

South Africa:

ZAR 300,000 – ZAR 800,000 per year

United Arab Emirates:

AED 120,000 – AED 300,000 per year

Saudi Arabia:

SAR 120,000 – SAR 250,000 per year

China:

CNY 120,000 – CNY 300,000 per year

South Korea:

KRW 50,000,000 – KRW 100,000,000 per year

Russia:

RUB 1,000,000 – RUB 3,000,000 per year

Mexico:

MXN 300,000 – MXN 800,000 per year

Argentina:

ARS 800,000 – ARS 2,000,000 per year
In conclusion, safeguarding digital assets through Cyber security laws and regulations related to cyberspace helps promote safe online environments. As technology becomes increasingly important today so too does pursuing professions associated with it; this includes an opportunity to make contributions all while having great earning potential when you're well-versed in the field's ever-changing nature. Having key certifications and technical knowledge is essential if one wishes to pursue a lucrative career path in Cybersecurity.
Happy Learning!