What is SCCM? If this question bothers you, let us help! Here, we aim to give you a rundown of what SCCM is all about and explain the basics – its benefits, deployment process and architecture. We plan on exploring each side of SCCM in this blog as well so that by reading it, you will have enough information and understanding regarding the topic. 
So let us get started! What are the components that make up an SCCM? How can organizations benefit from using it? How do we deploy it correctly? And how does its overall structure work exactly? These questions will be addressed throughout our posts here – giving us more insight into these aspects which make up such a great system.
Exploring SCCM: Shedding Light on the Basics
Getting to grips with SCCM: Uncovering the Basics System Center Configuration Manager (SCCM) is a Microsoft tool which has been around for over two decades and is mainly used by IT professionals to manage big groups of computers. So, it seems sensible that we should dedicate some time to learning what exactly it is, how it works, why we need this and how can be used properly.
So let's start by asking ourselves – what SCCM stands for. Well essentially, it's a configuration management system which helps administrators keep numerous systems running smoothly and effectively.
Often SCCM is utilized for distributing software applications or even whole operating system setups across an enterprise. With this, admins can set up inventory tracking mechanisms to keep tabs on hardware and software resources. 
On top of that, they can make user accounts, deliver updates, monitor alterations in their physical assets over time along with many other related tasks. But what sets it apart from the rest? One main benefit of using SCCM is its scalability; you're able to start off managing a mere 10 machines before venturing into controlling thousands of devices within large corporations. Sounds like quite the tool!
Moreover, you don't need to bother with manual configuration when it comes to deploying something or changing settings on multiple computers at once – since all tasks are automated via scripts. What's more, one doesn't require any technical expertise to grasp the fundamentals! Even someone who has some experience in Windows OS management can comprehend them swiftly (like creating collections). In addition, there is ample information available online which makes getting up-to-speed with this technology simple assuming that the right outlook towards learning prevails!
So overall System Centre Configuration Manager turns out to be an incredible tool both for large and small businesses – allowing its users to manage their whole network effortlessly. So if you're looking for a way of streamlining your system processes, give SCCM a try without hesitating; you won't regret doing so!
Unveiling the Veil: What is SCCM and How it works
If you have been curious to find out more about Microsoft's System Center Configuration Manager (SCCM) but haven't had a clue where to start, then this blog post is for you. SCCM has numerous features and can be complicated to comprehend – so let's explore the fundamentals. In its essence, SCCM is an administration platform which helps organisations amalgamate their IT structures by automating processes. 
It achieves this by hooking up with already existing technologies such as Windows Server, Office 365 and Azure services. Wondering how? Well, here it goes… This gives IT professionals the ability to effortlessly administer and control software updates, hardware inventory, device configurations and monitor performance. 
Furthermore, SCCM enables IT teams to expediently deploy software across numerous systems as well as manage patches – easily recognising which ones are appropriate for their machines and then automating or carrying out manual processes in order of implementation; thus ensuring all computers remain safe while significantly reducing maintenance timeframes with consistency. 
Moreover, SCCM offers remote administration features too! Have you felt how managing multiple computing tasks can be difficult? With this tool that has been made possible – keeping track of security measures whilst minimizing upkeep durations is achievable more than ever before!
The use of remote technology such as Remote Desktop Protocol (RDP), means IT teams can access any computer on their network, from anywhere in the world. 
This is hugely beneficial; no longer do they have to make long trips between offices or client sites, meaning costs are reduced for maintenance and deploying new apps/software versions – plus time saving for technical staff who would otherwise be spending hours travelling back & and forth. Pretty amazing right? It allows them to get jobs done quickly without having to worry about physical location constraints – just think what a difference this could make!
Lastly, SCCM offers comprehensive reporting functions that let administrators keep an eye on what's taking place in their environment instantly – such as memory intake and disk space utilisation levels – making it simpler than ever to stay ahead of any likely issues or performance bottlenecks before they become serious problems. All in all, System Center Configuration Manager is a highly effective tool intended to assist organisations in managing their IT environments without spending too much money. 
With access to many helpful tools like patch management and remote admin capabilities just mentioned, there are plenty of valid reasons why firms both small and large should consider SCCM seriously when seeking ways to streamline operations while boosting security simultaneously!
From Ordinary to Extraordinary: Features of SCCM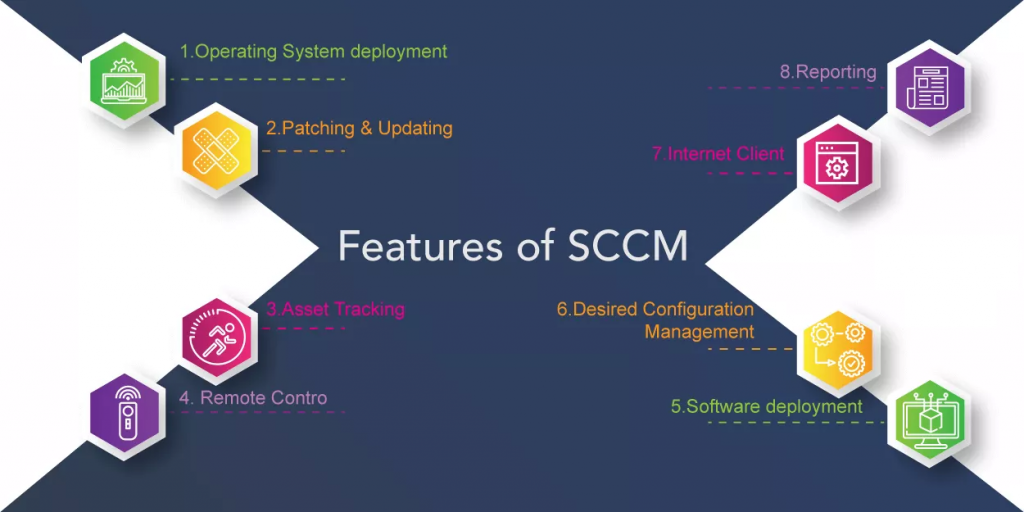 SCCM, or System Center Configuration Manager, is one of the most powerful tools IT teams can get their hands on. It grants them control over both physical and virtual systems from a single console – making it highly comprehensive in terms of system management capabilities. So what makes SCCM so exceptional? Let's inspect some special features that make this product stand out amongst other competitors within the industry. 
To begin with, SCCM offers an uncomplicated user interface allowing users to quickly access all managed systems without difficulty; giving you the advantage of managing multiple platforms seamlessly!
It's clear to see why SCCM is gaining ground amongst IT professionals the world over – it elevates regular server management to an entirely new level! 
It can handle numerous devices at once and its scalability makes it great for networks with a large scale. Plus, there are time savings to be had too since the automated task scheduling feature simplifies day-to-day jobs like pathing and software deployment. This could easily shave hours off your workload each week that would have otherwise been spent on manual tasks. SCCM offers security in abundance as well: network safety measures guard against threats such as malware or malicious applications while detailed reports offer insight into any potential risks or weaknesses present on managed systems. 
In addition, customers get extra protection through encryption of stored data plus two-factor authentication access control if they so choose; none other system packs this much security under one roof! Last but not least asset intelligence provides extensive information about hardware configurations across your network combined with usage tracking for multiple apps – allowing you seamless monitoring capabilities way beyond just setting up servers..
Delving into the SCCM Benefits for Businesses
If you're thinking of using SCCM for your business, it's worth considering all the potential benefits. Microsoft's System Centre Configuration Manager (SCCM) provides pretty much complete control over how systems and devices are managed in an organisation – from installing application patches to assessing exactly what software is on each one. 
It even gives you visibility into what's happening across all devices connected to the network. How useful would that be? You'd know if any applications need patching before they become a problem or spot compliance issues with ease – no more surprises!
To start with, enterprises can save cash by automating manual jobs while also providing additional security through its intricate policies and features. Besides that, deploying applications without any complicated steps will be quickened up resulting in a saving of valuable time when it comes to making alterations within an organisation. 
Furthermore, businesses can take advantage of SCCM's reporting capabilities to get insight into system usage and performance metrics so it brings improvements into operations inside their environment – How would they feel if things looked better?
What's more, SCCM offers automated patching which can ensure that systems are always up-to-date. This helps to ward off potential threats such as malware and data breaches. Moreover, it enables IT admins to monitor computer activity so they can tackle any malicious actions before too much damage is done – this gives employees and customers alike peace of mind knowing their information is safe on the company network. 
Ultimately, System Center Configuration Manager presents several advantages for small-medium businesses; from cost savings through to improved security and management capabilities. It's no wonder why many organizations have implemented SCCM in their infrastructure: not only does it streamline processes but also keeps costs low whilst increasing profits!
Harnessing the Power of SCCM: A Closer Look
System Center Configuration Manager (SCCM) is an amazing tool for IT professionals. It's a powerful and thorough systems management solution that enables IT directors to efficiently manage vast amounts of Windows-based computers. From the operating system deployment right through to configuration, patching, and software updates – SCCM makes it effortless for organisations to get full command over their environment. 
But what exactly does SCCM do? At its root level, SCCM is a comprehensive systems management package created by Microsoft – allowing administrators from any organisation the necessary tools they need to achieve effective control on multiple devices running various versions of Windows OSs with relative ease instead of having them rely upon manual methods alone! 
It offers a comprehensive solution for automating and managing all parts of an organisation's IT infrastructure, including operating systems, security patches, applications, hardware inventory etc. Making the most of SCCM (System Center Configuration Manager) makes easy work of efficiently handling vast amounts of distributed devices with much less effort. 
Apart from giving centralised control and insight into every aspect of the system, it's also great at cutting expenses connected to manual operations such as rolling out new software updates or releasing fresh products – Who wouldn't want that?
SCCM has a wide range of features that make it an ideal choice for organisations looking to maximise their technology investments. For instance, its deployment capabilities allow companies to deploy apps quickly and effectively while giving real-time insights into how users are interacting with the system. What's more, there are advanced automation tools such as rules-based tasks which enable teams to automate routine activities to save them time and resources.
The beauty of SCCM is its scalability – covering everything from small business networks up to large enterprise entities housing thousands of people at once! This means even tiny or complex businesses can still benefit from these incredible capacities whatever their size may be. With SCCM in your corner you can bring new technologies onboard promptly whilst also being aware when security vulnerabilities arise or app updates need adding – all this granting you peace of mind knowing your network remains secure but efficient too; ultimately saving both money and hours on end!
SCCM Deployment: A Comprehensive Guide
Determining the scope of a project is paramount when it comes to deploying Microsoft System Center Configuration Manager (SCCM). Users must understand how this widely used tool for managing Windows-based systems works to make effective use of it. SCCM Deployment: A Comprehensive Guide provides an entire overview from initial configuration and plan development, through report creation and troubleshooting – everything you need to know about setting up and running a successful deployment with SCCM. So what steps do you have to take first?
Right, so now you gotta work out what type of systems you want SCCM to manage – like physical or virtual machines etc. and which features they're gonna need. Next up is getting an implementation plan sorted; this includes a timeline for when things are due to be rolled out, resources needed at installation time and how best to monitor the deployment's progress as it happens. 
Once that's all in check then we can get started on actually doing the installin'. It's essential to configure a few settings on client computers for successful communication between clients and servers, such as port numbers. It also requires us to switch on security protocols, divide the devices into collections based upon their properties – which is known as setting up system boundaries- design user roles and assign permissions within SCCM. 
Additionally, all software packages must be tried out before they can be deployed to identify any potential problems beforehand rather than after doing so! Once the installation has been completed properly, however, there are still other tasks one must take care of to ensure everything works perfectly; this includes further steps like…
Creating reports to track hardware inventory levels, and setting up alert notifications for grave events such as low disk space or unlicensed software installations – these are just some of the things you can achieve with SCCM Deployment. It's also possible to configure client settings like power management options and remote control preferences, deploy third-party applications with custom configuration profiles and install language packs if needed. Don't forget that all apps installed using SCCM have been configured so they're manageable anywhere in the world!
And when it comes to troubleshooting common issues associated with deployments including network connectivity problems or server access issues plus optimising performance while managing a lot of Windows systems through SCCM deployment: A Comprehensive Guide has got your back! With tonnes of useful information on how best to manage this whole process.
Unfolding the SCCM Architecture: A Deep Dive
System Centre Configuration Manager (SCCM) is a comprehensive solution that helps to manage traditional desktop environments, mobile devices and Windows 10 endpoints. It's one of the most popular enterprise mobility management products around today. In this blog post, we're going dive deep into SCCM's architecture, explore its features and understand how it can help IT administrators simplify complex tasks inside their companies. 
At its very heart, SCCM is an integrated set of tools offering effective capabilities for setting up and administering computers throughout an organisation – but what does this mean in practice? How do these powerful components stack up against each other when it comes down to getting real work done?
Using Microsoft System Centre Configuration Manager (SCCM) is a great way to streamline your IT operations. It gives you an easy-to-use control system for keeping tabs on all of the devices in your network and controlling which software applications are installed on them so that IT admins don't have to worry about manually configuring each device or machine. The key pieces of SCCM's architecture comprise its control panel, deployment manager, site server, database server as well and client agent running on the managed machines – altogether they make up a robust set-up for day-to-day management needs.
The Control Panel gives you access to general settings such as network connections and system policies, while the Deployment Manager sorts out software packages and operating systems installation on target machines. The Site Server keeps an eye on all collected info from computers in your environment including hardware inventory plus setting up advanced security policies using Active Directory group rules. 
Meanwhile, the Database Server stores data obtained from a managed environment for reporting purposes – giving you a central place where everything's compiled nicely together! Finally, the Monitoring Server is responsible for keeping track of performance metrics like CPU usage, memory utilisation or disk space across different managed machines. All these components work alongside each other to give IT administrators full control over their entire domain through one console – making deployment of new updates or applications hassle-free! 
What's more – SCCM comes with customisable dashboards so that sys admins can keep tabs on how healthy their system is regardless of machine configuration thus providing a comprehensive package when it comes to launching projects related to IT infrastructure quickly and safely.
Streamlining Operations with SCCM: Advantages Explored
The primary benefit of utilising System Center Configuration Manager (SCCM) is its ability to help organisations streamline their operational processes. It does that by providing customers with tools for automated deployments, patch management and compliance settings management- all on top of Microsoft's System Centre suite of products. This effectively minimises the amount of manual input or intervention needed from IT teams when it comes to addressing operational concerns and tasks; hence SCCM acts as an enterprise-level solution.
To give a better description, one advantage in particular stands out: automated deployment capabilities. Automating these tedious yet vital duties can save companies hours if not days worth of time – something which would be impossible without SCCM!
It allows IT teams to rapidly implement applications and operating system updates while making sure that all systems stay up-to-date as well as safe. This means organisations don't have to individually sign in on each device and put in the updates or other software packages. As an alternative, they can utilise SCCM's deployment tools for rolling out patches and new features uniformly across multiple machines within a business at once with no trouble. This saves loads of time and guarantees every piece of equipment is equipped with precisely the same version of programs or programs.
A big plus of using SCCM is its patching abilities. Having up-to-date patches in place is essential for keeping your systems safe from cyber threats, but it can be a real chore if done manually – we're talking hours and hours of repetitive labour here! However, with the help of SCCM administrators can set rules that will make sure updates come through as soon as they become available from their source vendor – so you save time and energy too. Isn't that great?!
Automated patching helps organisations keep their devices secure, no matter where they are located or who is using them. This makes it much easier for companies to stay ahead of any potential threats before they cause significant damage or chaos. What's more, SCCM allows IT teams to manage compliance requirements with ease through the setting up of custom policies that fit different criteria depending on what a business needs and calls for. 
This means you always know exactly what must be done without having to manually go over guidelines each time something changes – meaning businesses can meet regulatory obligations quickly and efficiently without wasting valuable resources in doing so.
SCCM and Its Role in IT Infrastructure
SCCM is an excellent tool for managing IT infrastructure. It's a Microsoft-backed platform that can be used to oversee multiple devices and operating systems from one location. With SCCM, managers can automate software deployment on client machines, set up settings all around their enterprise network as well and count hardware and software assets – making it easier for administrators to ensure the security of their technology stack while also keeping everything updated with minimal effort required. 
In essence, the core components of SCCM are its deployment tools and inventory features – giving you full control over your tech environment from one place!
Administrators can benefit hugely from components in the System Centre Configuration Manager making the IT deployment process a lot faster by rapidly deploying new applications or patching existing ones. Additionally, with inventory features, you can keep track of system usage allowing more precise decisions on purchasing new hardware and software.
What's advantageous about SCCM is its remote management capabilities; this makes it much easier for any IT team when resolving issues as they don't need to access the systems physically which saves time and effort!
Also, the ability to monitor servers remotely means administrators can identify probable security vulnerabilities rapidly before they become too serious. What's more, SCCM provides comprehensive reporting tools so organisations can keep track of their technological assets in real-time. Taking advantage of this feature allows IT teams to spot if any system resources aren't being utilised efficiently or maximally meaning that necessary changes can be made before there is a performance issue due to poor resource allocation. 
Summing up, it's plain for all eyes how significant SCCM is now and its role involved in making sure IT infrastructure remains secure and current with little effort from professionals working within the sector. The rich bunch of features gives firms just what they need when managing systems from one central point without compromising either on safety standards or objectives regarding efficiency along the way.
Understanding SCCM: Future Prospects and Opportunities
Systems Center Configuration Manager (SCCM), an offering from Microsoft, enables organisations to tackle the deployment and administration of their Windows-based computers. It helps administrators keep a hold on PCs, servers as well other endpoints over a network with the aid of centralised tools and policies. This not only reduces IT expenses but also ameliorates the reliability of computer configurations within any organisation – by limiting manual configuration tasks!
What's more impressive is that SCCM comprises multiple components aimed at helping companies stay up-to-date in terms of features, security updates and whatever it takes for assured performance levels. So why waste cash or even labour when you can have all these benefits under one roof?
Aye, SCCM can be a powerful tool for IT admins. Its Inventory Tool lets them take an in-depth look at what software is installed on each device – gotta stay up to date with that! Then there's the Software Update Tool which allows those pesky patches and updates to get rolled out easily; like having your cake and eating it too! And then you have its Deployment Tool, designed to help roll out applications or Operating Systems quickly across multiple devices – no more time wasted copying files individually. 
But wait, there's more: SCCM also offers killer reporting capabilities so the man in charge can track usage trends over time; probably easier than most other solutions available these days… What about system health status? Oh yeah, gotcha covered there as well – compliance reports are sorted too… This really could make life much simpler for any IT admin worth their salt!
In addition to its system management functions, SCCM also brings features which allow organisations to securely access corporate networks from virtually any device – including mobile phones or tablets. This guarantees that staff can remain productive even when away from their desktops or laptops. Moreover, SCCM's capabilities for mobile device management let businesses deploy apps without compromising user privacy and security.
What is more, SCCM provides an easy way for companies to integrate third-party systems into their environment such as cloud applications or tailor-made business systems. Consequently, this allows administrators to extend the existing systems with new capabilities but without having additional hardware or software investments; understanding how it all works in detail becomes significantly important for firms looking at optimising performance while cutting down on cost resources.
To wrap it up, the System Center Configuration Manager (SCCM) is an essential asset for IT admins. It facilitates automated software deployment, application virtualization and user-based security settings – all of which make life easier for them. What's more, its efficient architecture enables administrators to oversee multiple sites from a single console with ease. Implementing SCCM can significantly reduce the burden on organisations by keeping their computing devices secure and fully updated at all times How useful would that be?
Are you looking to widen your IT skills? Then sign up now for our SCCM course. Our course has been created to teach participants the fundamentals of System Centre Configuration Manager (SCCM). You'll get a better understanding of the structure of SCCM, in addition to how to install, configure, patch and manage distinct systems using it. Plus figure out how to troubleshoot and maintain various IT systems too!
Our trainers are Microsoft Certified experts who possess comprehensive knowledge and experience within this domain. They will provide hands-on practical training so that you can apply what you have learnt with assurance.
So don't hang around any longer – join us today! Sign up for our SCCM Course and take your IT career one step further! Ready set go…
Are you looking to develop your IT skills? Then why not sign up for our SCCM course and get the vital knowledge and capabilities needed to make it in a competitive job market? Our experienced instructors will teach you how to use Microsoft System Center Configuration Manager (SCCM) for patching, asset management, software deployment as well as other areas.
You will gain an understanding of the latest techniques used for managing physical and virtual machines, plus learn how to configure and troubleshoot network devices too. With this course under your belt, you're sure to have all the qualifications necessary to succeed in many different types of IT roles – giving yourself more options than ever before! Also with our flexible learning choices, fitting it around any schedule is easy; allowing yourself plenty of time while still getting results quickly enough that don't delay- register today so begin on your path towards success without further ado!
Happy Learning!